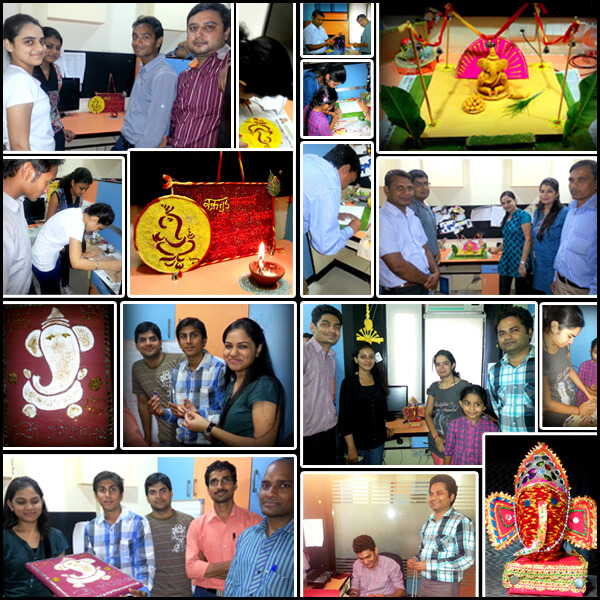 Ganesh Chaturthi, the great Indian festival is celebrated as Lord Ganesha's birthday, with devotion and delight. Lord Ganesha is considered as the Lord of Power , Wisdom ,Peace and harmony and is believed to remove all obstacles on the path of the spiritual aspirant. The celebration of Ganesha Chaturti carries on for 10 days and ends on the 11th when the idol is taken on a procession through the streets and then immersed in water after a pooja, better known as Ganesha Visarjan signifying the cycle of birth, death and rebirth.
To celebrate this auspicious day in high spirits, WIPL organized "Make your own Ganesha contest" to suit the occasion. We thought it would be best if everyone creates their own representation of Ganesha based on their perception, understanding and using their creativity.
For the competition, the organization was split into 4 teams. The focus was to ensure that we work in a specified budget and create Ganesha using innovative material.
Every team had 1 hour to complete the task. One could see the spirit of competition and enthusiasm on everyone's faces. For some members, the task seemed extremely challenging as they felt that it was easier to migrate servers than to create something innovative. The good part was that every member participated and contributed equally in the contest.
At the end of the contest, we had 4 different types of Ganeshas. All were extremely beautiful and very innovative.Team A had created a very artistic Ganesha with the sun like beam emanating behind them. Team B made a beautiful temple with Ganesha made up of Besan (Gramflour) and their mouse residing in it. They had also prepared besan laddoos which looked awesomely delectable. Team C had a more art like representation of their Ganesha, beautifully prepared using handmade sheets and thermocol. Team D went a step ahead and prepared their Ganesha with coconut covered with mauli as coconut and mauli are considered pious in Hindu religion.
All the ganeshas looked beautiful, innovative and endearing. The positive radiance of the Ganeshas left us awestruck. All the teams did a great work, but the Team B won the competition on the parameters of innovativeness, neatness of the structure and the materials used. They were rewarded with surprise gifts.
The whole purpose of conducting the competition was to have lots of fun and bring about the creative side of each individual. Gladly, the purpose was solved in a much bigger way. We are sure that all the Ganeshas prepared by our precious employees will bring in peace, prosperity, wisdom and good omen to all of us. Happy Ganesh Chaturthi.