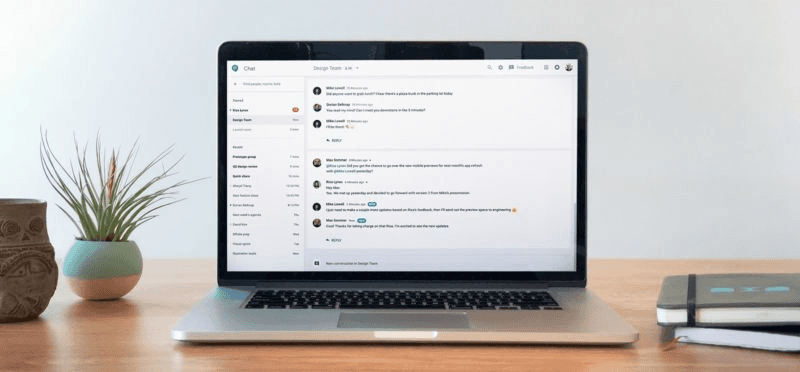 What is Google Hangouts Chat?
Hangouts Chat is G Suite new business-focused chat tool that provides enterprise teams with "rooms" to hold "conversations," share and discuss Google Drive documents and interact with connected apps. Hangouts Chat is available now to all G Suite users on desktop and iOS and Android in 28 languages.
According to Google, Hangouts Chat is an intelligent communication app for teams that takes direct messaging in Hangouts and evolves it to reflect the way modern teams talk business.
The new Hangouts Chat is very much compatible with the old version of Hangouts that still works on mail.gmail.com.  All direct messages from individual members will forward both ways between Hangouts Chat and classic Hangouts by default.
What Makes Hangouts Chat so Special?
What makes this chat platform so special is the plethora of capabilities that it offers — from bots to simple scripting using Google App Script — and integrates with third-party applications so teams can do more done within the conversation.
1. Sharing of Google Docs, Sheets, Slides, and Drive Files made extremely easy

Hangouts chat is made so that collaborations and sharing become easier and less of time-consuming. In the classic hangouts, we never had an option to attach or share the document rather we could just share the URLs. But with New Hangouts Chat this problem has been solved. We can easily share anything from our desktop or from google drive by simply clicking on the icons mentioned next to the typing area.
Add files to conversations
When responding to an existing conversation or while starting a new conversation, choose an option:

If you want to attach a file from your computer,




click File Upload

.

If you want to attach a file from Google Drive, click Add Google Drive file

.

Attach the file and click Send send

.
Must Read: Latest Gmail Update – Email gets Dynamic with Gmail
2. Chat with Bots at Hangouts Chat Rooms

Google Hangouts Chat lets you communicate with chat with your apps. These apps can help you schedule meetings, find flights, poll your team, check your calendar, request time off, and much more—and are more interactive and powerful than bots in many other chat apps. The new interface makes it extremely easy to add these apps and work with them. Simply follow these steps:
Open

Chat

and at the top left, click Find people, rooms, bots.

Click Message a Bot.

Enter the name of a bot or select one from the suggestions.

Next, to the bot you want, click Message.

Enter your message and click Send send or press Return.
For example, Take Polly. Polly is a bot that is used for taking Polls at Hangout. Suppose you want to what your teams want to have at lunch. You offered them 3 choices- Pizza, Burger, Noodles. The choice that gets maximum vote will be ordered Finally.
In your Group (the name is Foody) Write

@Polly "What should we order for lunch?" "Burgers" "Pizza" "Noodles"

Press

Enter

.
3. Keyboard Hacks for New Hangouts Chat

Google Hangouts Chat offers a wide range of keyboard shortcuts. Just like in Gmail inbox, one can organize email without using a mouse, the same can be done with Google Hangouts Chat.
↑   For going to previous conversations
↓   For seeing newer conversations
→ For Selecting a conversation
Ctrl + K on a PC or CMD+K on Mac to open the Find people, rooms, bots menu, and type in the room or person you want to chat with.
Alt + / on a PC or Option + / on a Mac opens Hangouts Chat's search where you can look through chat conversations, documents, files, and more.
4. Delete or Edit Sent Messages.

In the classic Hangouts, it was not possible to edit or delete the message that we sent to the recipient. But in the New Hangouts Chat by Google, one can easily edit or delete the sent message and also add emoji
Steps to Delete on Edit Message in Hangouts Chat
Hover over your conversation.
On the right side, you will see these two icons

.

for

Delete

&

for

Edit

.
If you want to edit the message, click on the

Edit

icon.
Make your change and click

Update

.
How to Enable Hangouts Chat on G Suite
It is really very easy to turn on or off the new Hangouts Chat on your domain or organizational unit.
Sign in to the Google Admin console.

Go to

Apps > G Suite > Hangouts Chat

.

Select the desired

organizational unit

. Otherwise, your settings apply to your entire organization.

Turn Hangouts Chat on or off.
Also, we would like to tell you that Hangouts Chat by Google is very different from Chat by Google (new bet to replace SMS).
To know about Chat by Google, click here.