The most memorable memory of Q1
at WIPL … through my rose-tinted lens.
Man hours of preparation!
A ceiling created out of those handmade flowers, covered with fairy lights across the room!
A photo booth of beautiful fire wings of the Phoenix!
A fierce artwork of Woman in PINK !!
This was not just another day or a regular fete that could just happen… This is a tale of what dreams are made of!! A special day for women across the globe, this is WOMEN'S DAY, and this day has a life of itself at WIPL.. Don't take my word for it, visit our blog section for year on year brilliant fun that we have had.
A dream-like ceiling of flowers and lights, a sanctuary of flowers, messages, and artwork… all carrying the feeling of love, warmth, honor, and cherishing for each Woman at WIPL.
The sort of experience that professionals create, all of it was done by our teams in around 48+ hrs of time & energy put together. From training a few to hold scissors and a few who became masters of making wires click, this team of men… uhh Supermen collated this day's schedule for us.
From the warm welcome to snacks and lunch every few hours and to the amazing gifts and cake at the end of the day, everything was nothing short of a movie sequence. The pictures will weave this story for your eyes…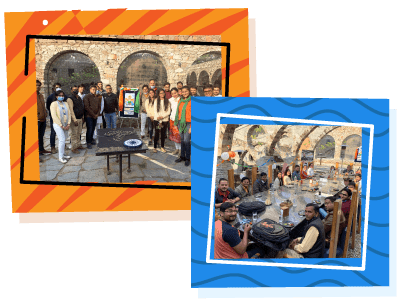 The Annual Meet on 26th Jan 2021 came as a breath of fresh air as the ENTIRE WIPL FAMILY came together after 10 months to celebrate the Republic Day like every year. This day marked the start to renewed mind space, mission, goals, strategies, and set some new standards of success!
An activity that led the teams to a brainstorming, competitive & a collaborative session, was one of the Highlights of the day. The activity required the team members to give outline to different states and collaborate parallely with other teams to form ONE UNITED NATION: INDIA and this was all with the help of matchsticks!! The team members depicted the message of what best our Country is known for UNITY IN DIVERSITY.
Team Members who go the extra mile and perform beyond their scope of work are the real jewels of a COMPANY…

And with many such jewels at WIPL, the Rewards and Recognition Programme at WIPL no more restricted itself to the SPOT and SUPER GEM Awards but had broadened the horizon to various badges that our #AnmolRatan receives on doing something extraordinary.

From achieving Customer Kudos to gaining the SPOTLIGHT or being our MIGRATION NINJA.. Our jewels leave no stone unturned to achieve anything less than the best.

#JustNormalthingsAtWIPL
WIPL has always aspired to create a workspace that believes in expressing gratitude and maintaining a work life balance. So, this Valentine's Day, we decided to spread love and gratitude, and surprise those who love us from all their heart.
Every WIPLian poured their love in the form of small and big goodies … all wrapped in a GIFT BASKET, customized just for their Special One..with these oh..so special Love letters!! 😀
Learning in Quarter 1 at WIPL took place through some fun and new interactive methods. Activities like Lights Camera Action and Communication Activities were organized. While Lights, Camera Action focused on teamwork, inter-departmental collaboration, and highlighting the core values on which the foundation of WIPL is laid, the Pronunciation and Filler activities under Communication emphasized on how pronunciation and fillers play an important role in our day to day communication.
A game of Housie with family is equally fun as a Family HOLI celebration. So, this HOLI, the WIPL FAMILY collaborated over Google Meet for a game of Holi Housie with buckets and pichkaris While no activity at WIPL is conducted without a twist, the HOLI HOUSIE also came with its own set of twists. The entire activity turned out to be a musical delight with the team members singing Bollywood Holi songs to claim their prizes. And to add more fun to the entire celebration, we also saw WIPLians maaro some thumkas to and bring in more fun to the WIPL HOLI CELEBRATION
Laying emphasis on the same, all the WIPLians at the office and those working from home came together for the various fitness challenges that we organized. The aim of these activities was to not only test the fitness levels but also have fun together.
Activities included jumping jacks, push-ups, dumbbells, squats, skipping, and lots of laughter. The Outcome? An understanding on the importance of fitness and loads of groaning by the team members for the next few days in pain.
If you are a fitness freak, send across a 30 second video showcasing your passion for fitness performing either push ups, crunches or skipping at [email protected] and
stand a chance to win some amazing prizes
With the second wave of the virus floating around, and the NEW NORMAL coming into existence again, the Training & Development and Employee Connect Team became more sensitive towards Employee Wellness.
To ensure this, team connect have been organised on a regular basis to understand how the team members are coping with the situation and giving them a more positive outlook. One of the main agenda of these sessions was also to LISTEN, an open-door policy has been introduced for every WIPLian to connect.
Your Safety in Your Hands
Is there some extra care you are taking to keep the virus at bay?? Maybe frequent sanitization or improving your immunity through some Kaadha??
Share a video of yours with us on Facebook tagging WIPL with your measures and stand a chance to
WIN SOME PRIZES.
Have you come across an organization that is employee-friendly, is focused on its core values, and is HIRING amid the Pandemic Situation???
Obviously, it is WIPL – India's Leading Cloud Technology Company!
If you have a PASSION FOR GROWTH AND DEVELOPMENT and AIM at DELIVERING NOTHING LESS THAN THE WOWWWW FACTOR, then, match your profile with our current opening on
Current Openings